September 7th, 1965. A date etched into the brains and collective consciousness of anyone who has chosen organizing – specifically union organizing – as their life's path. It is the day that Larry Itliong convinced 2,000 Filipino farmworkers to walk off the vineyards they worked in Delano, California. Their demands: $1.40 an hour, 25 cents a box, and the right to form a union. After years of fighting, the workers got what they asked for. Being a union leader and organizer is not a career, it is a calling. Many organizers have worked for wages that were decided by a boss with no idea what it was like to be part of the working class. Itliong was fifteen when he left his home in San Nicolas, Philippines to come to the United States in 1929. He had dreams of getting an education. His first stop – working in the vast salmon canneries of Alaska, where the industry was and still to this day, is thriving.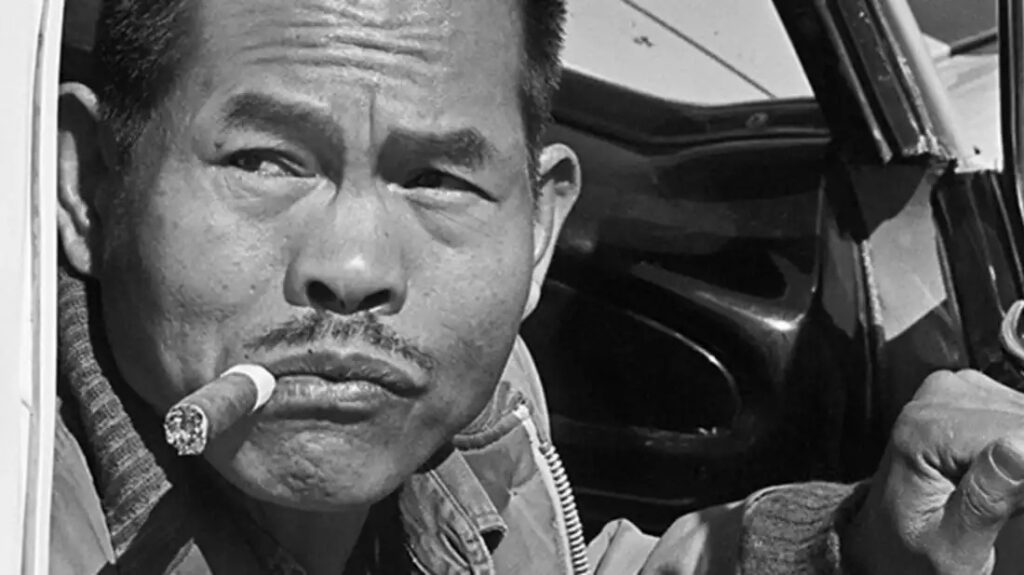 He stood tall and proud, black framed glasses beneath a flat top haircut. Above his caterpillar mustache, a stogie clenched between his teeth. Itliong emigrated to the States with the intention of studying law and becoming an attorney to seek justice for the poor. Unfortunately, that never happened. The violent racism and poverty that affected Asian Americans at whim prevented him from getting the education needed to obtain that title. He eventually settled in central California, home to one of the largest populations of Asian Americans in the United States.
Stockton was the first city Larry called home. It was where he recruited more than 1,000 workers to join the Agricultural Workers Organizing Committee (AWOC). The success of this organizing effort was so grand, news reached the town of Delano, CA, a small city four hours outside of Stockton. He was asked to come and help organize the largely Filipino worker base. Larry agreed and Filipino Hall was where he set up operations, mobilizing the workforce.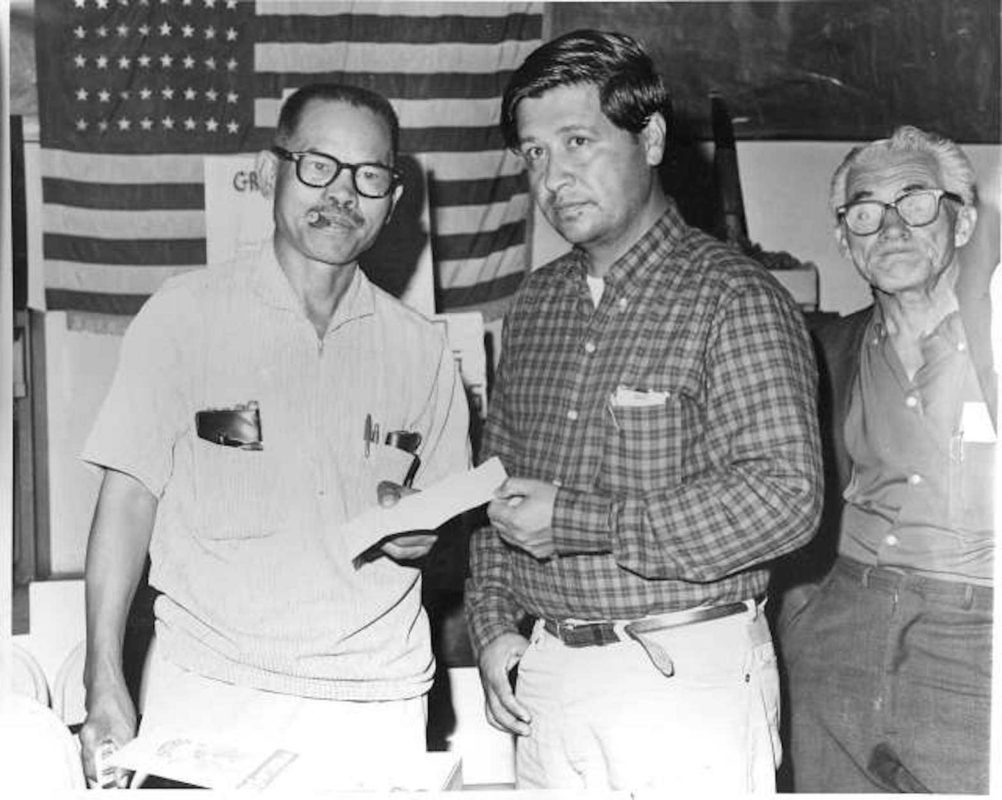 He managed to get 2,000 workers to join in the strike, as a $1.40 wage, 10 cents a box and the right to form a union were all demands that the workers unanimously decided were needed. Larry enlisted the help of the Mexican farm workers, who were being led by one of the most storied labor leaders of our time, Cesar Chavez. This was the catalyst that set off the most successful unionization efforts which birthed the United Farm Workers (UFW) one year later. Larry led AWOC and Cesar led the National Farm Workers Association (NFWA), and together, the movement took flight, like the stylized eagle on all the red flags that are still flown today, representing solidarity and a real, solid fight. Chavez was wary about joining Itliong's movement at first. But when fellow labor activist Dolores Huerta helped him mobilize 1,000 Mexican workers, he joined Itliong's cause. Huerta spoke on the violence inflicted by the guards at the vineyards and how they humiliated Filipino workers. That speech helped unite the Mexican and Filipino workers.
It was the vision Larry wanted, one that required all of the workers to stand together if they were going to arrive at an agreement to receive what the workers demanded. Filipino Hall is a landmark, a union hall and kitchen where Mexicans and Filipinos cooked for one another, where talk was exchanged of the changes needed, where the workers convinced local grocery stores to stop carrying Delano grapes.
The displacement of Filipino immigrant workers (respectfully known as "Manongs" – Filipino for older brother or cousin) from labor camps when they joined the grape strike in 1965 was a catastrophe as many of them were left without pensions and homes when the strike was over in 1972. Racist, anti-miscegenation laws in California restricted these same people from marrying outside their race. Many of them remained unmarried. 1973 and 1974 saw the construction of Agbayani Village, named after Paulo Agbayani, a Manong who had previously died on the picket line. This was an operation that was completed under the eye of Larry and Cesar but was carried out by volunteer farm workers who came together to afford the Manongs some respite, dignity and small comfort at the end of their lives. This is known as an early effort of public housing, and stands to this day as a California labor movement landmark.
"The Filipino labor movement makes me feel like I am who I am supposed to be. Like I am valid in what I do and what I stand for because I am Filipina, because resistance is our way and has been for hundreds of years — well beyond the labor movement." Milwaukee organizer Raquel Tiyaga says. Tiyaga works with Midcoast, an organization created to help musicians and venues during the pandemic.
"I lose my way a lot — my family will question what I do because they have tried so hard to assimilate here and I refuse, or I feel othered because my people are just not seen." Tiyaga explains. "But then at the end of marches we do the unity clap. And you know that started with Larry Itliong and Cesar Chavez to transcend language barriers during the labor movement. And that's my little secret that I hold close to me when I'm out."
According to NBC News, hate crimes against Asian Americans in the United States have spiked 150% since the start of the COVID pandemic, due in part to the former president who referred to the COVID pandemic with anti-Asian slurs. Asian American hate in the United States is nothing new. Internment camps, displacement from homes and poor living wages for Asian Americans is woven into the foundation of this country, and there are ways to bring it to a halt. The most important way – uplift the stories of heroes like Larry Itliong and make sure their stories live on and never gets erased from history books. Another way is to see, honor, respect and celebrate cultures through listening. It is what our leaders would have wanted.