"We may not run America, but we make America run!"
Milwaukee, WI – The chants pierced the sweltering downtown Milwaukee air on June 15th, 2021. It's the 31st annual Justice for Janitors Day. It was a rally that led to actions, such as janitors wearing stickers on their clothing throughout their shift that read "Janitors are essential" or "$15 now / union para todos". The head of all the actions was to negotiate a contract, one that the workers had been buzzing about for months. The downtown janitors ran a full and thorough campaign, working with their union, Service Employees International Union (SEIU) Local 1, and with the help of local union Milwaukee Area Service and Hospitality Workers (MASH).
A $15 minimum wage is at the top of their demands. Union stewards, chosen by the work groups in each building, are assigned to articulate everyone's concerns. Those stewards go to a table, where they are joined by union representatives. Owners of the buildings, who have contracts with the cleaning companies that employ the janitors as well as supervisors in the cleaning companies are also present. They are the ones who the agreement has to be reached with. This is what is known as collective bargaining.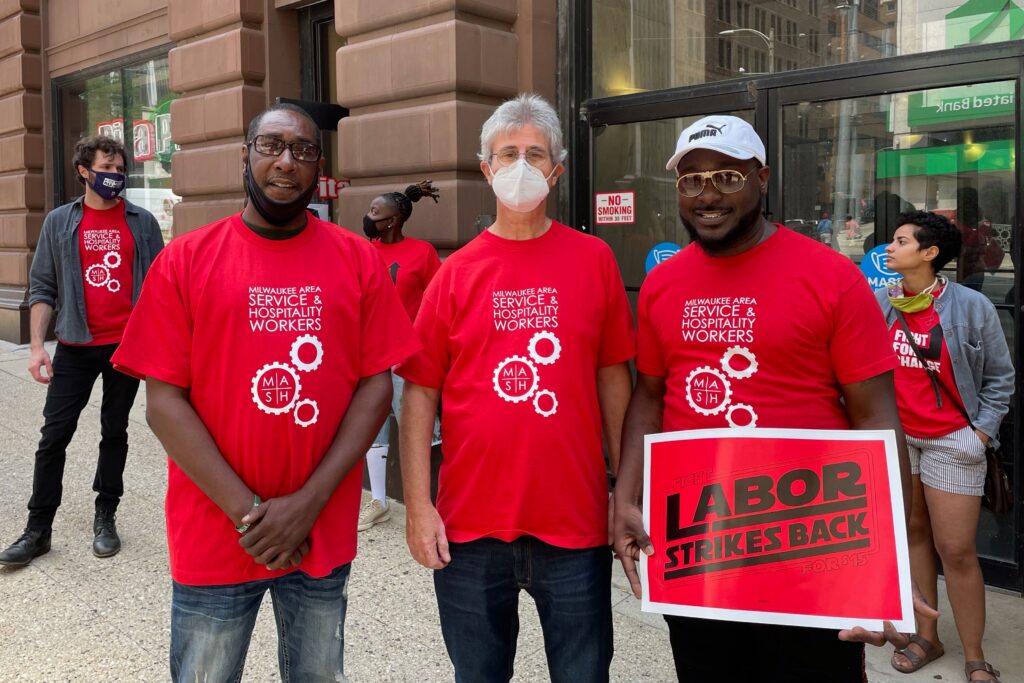 Outside the building where the negotiations take place, janitors line up on the sidewalk, repeating chants and listening to speeches that relay the importance of a $15 minimum wage. "$15 is only a down payment on a living wage. Without a union, the bosses have all the power and the workers have none. Politicians will not get this money for us. Workers organizing a movement and getting to the table will get us what we deserve," MASH president Peter Rickman says into a bullhorn. He is met with gales of "Woo's" and clapping. Janitors have been the mainstay of the grueling and during COVID – fearful – cleaning industry. Most janitors worked throughout the entire pandemic, without a stimulus from a federal or local level.
"It's easy to see that the pandemic affected us as communities of color more disproportionately. It wasn't due to the fact that we are people of color, but because we had to keep coming to work, no matter what," says Francisco Armas, who has been a janitor for 12 years in Milwaukee. Three janitors passed away from COVID-19, who had been working without reprieve: Aurelio Hernandez, Avelino Abrego and Clinton Carter. "Those are three names that are etched into the brains of every janitor in Milwaukee. It could have been any of us," says Cecilia Cavada, a 10-year cleaning veteran.
Justice for Janitors is a campaign that started in 1990 at Los Angeles, California by a group of janitors who cleaned the offices of downtown LA. They unionized under SEIU and marched peacefully through the downtown area of Los Angeles. The members fought for better wages, improved conditions and healthcare and full-time opportunities. The janitors were beaten by police, and the country started paying attention, which spurred protests and sparked unionization efforts all across the nation. Stephen Lerner, who was a former organizer for the United Farm Workers (UFW) union, helped form the campaign. He employed many of the tactics he had learned from his time working with the UFW, including community organizing, vivid illustrations regarding the exploitation of janitors, street theater, and hunger strikes.
The spirit however, can be traced back to the textile mill strike in Lawrence, Massachusetts, also known as the "Strike that Shook America", or the "Bread and Roses Strike." The strike was led by 21,000 Immigrants, mostly women, who made up the staff of the mills, who became members of the International Workers of the World (IWW) union. "We want bread, and roses too," the protest signs outside of the mills, which came from a poem written by James Oppenheim.
"As we come marching, marching, we battle too for men,

For they are women's children, and we mother them again.

Our lives shall not be sweated from birth until life closes;

Hearts starve as well as bodies; give us bread, but give us roses!"

James Oppenheim
The strike would continue through the coldest months of the winter, and the workers would see no immediate change. The aftermath of the strike would have a ripple effect, where wages went up by five to seven percent.
Through these efforts, the workers' resolve deepened and they won more than just fair wages and their first union contract. They were also lifted out of poverty and were able to affect their communities in positive ways. This is what happens when workers unite. The most important thing in unionizing efforts is that people talk to each other on the worksite. This is a proven method. Workers should always sidestep the fact that they are told to not talk about their wages out of "respect" for one another. This is a myth created by the boss class, something that will expose the fact that they are exploiting their workers.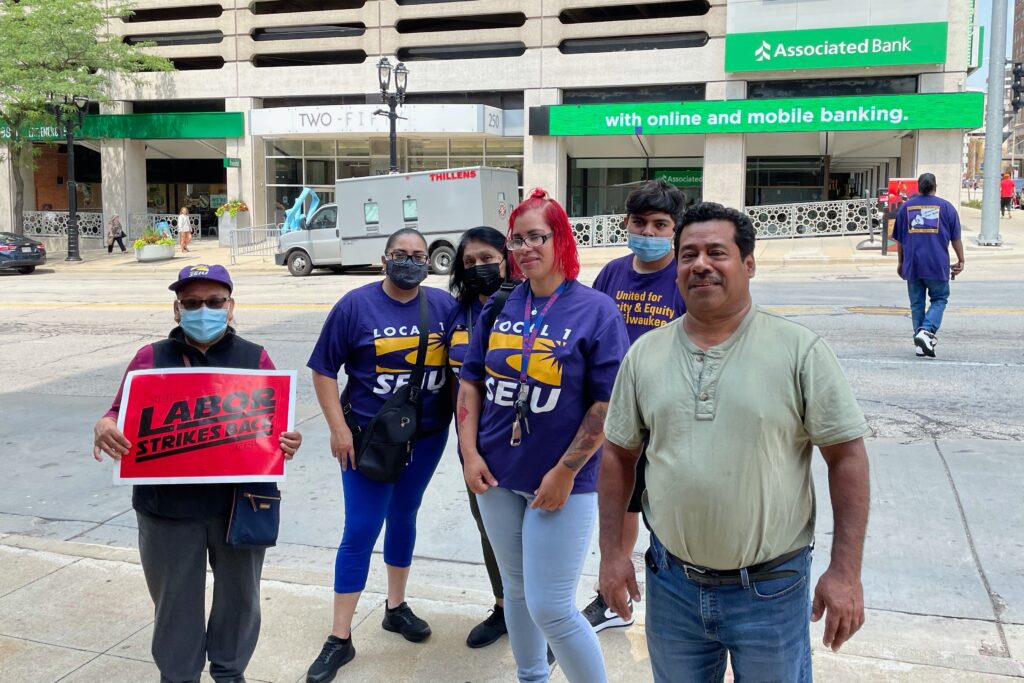 The negotiations continue, and the janitors keep holding on to that hope, the one that comes only through effective unionization efforts. "Most of us came to this country with a dream, and that was to provide a future for our kids that we never had before. Unionizing is something I never believed could happen for me. A streamlined, centralized form of taking power back and making me seen," says Carlos Cruz, who has been cleaning buildings in the United States for three years. He is part of something bigger now, something that shows true change is possible.