Milwaukee, WI – The smell of sage greets me as I tread forward into Walker's Square Park in the heart of Milwaukee's South Side. It's where many community organizing meetings happen. People are gathered around activist Eric Kleppe-Montenegro delivering an impassioned speech about solidarity with the Colombian people. Colombians are being murdered by the state under the tyranny of President Ivan Duque. The people of Cali, Barranquilla, Medellin, Cartagena and Bogota have staged an uprising in response to Duque's tax plan which guts the working class and favors tax breaks for the wealthy.
"In the United States, it's particularly important for us to stand with Colombia because our tax dollars are being used to murder activists and destroy social movements for human rights," Kleppe-Montenegro said. "The American ruling class is invested in maintaining the status quo in Colombia because their wealth and power is dependent on the oppression of the Global South. Our current president was a major proponent of Plan Colombia, and these policies will continue in our name unless we fight back."
Kleppe-Montenegro lists off how the American government has wronged Colombians – "ICE provides training to the national police. The ESMAD was created as a result of Plan Colombia and the US governments provide the tools of war being used against the Colombian people."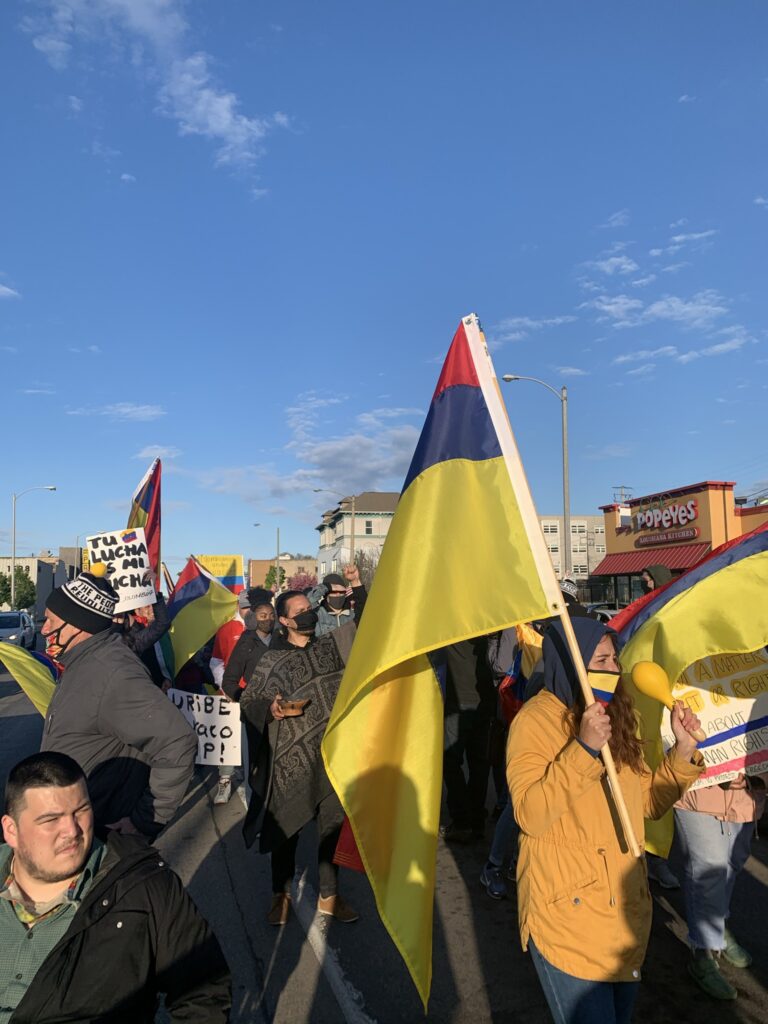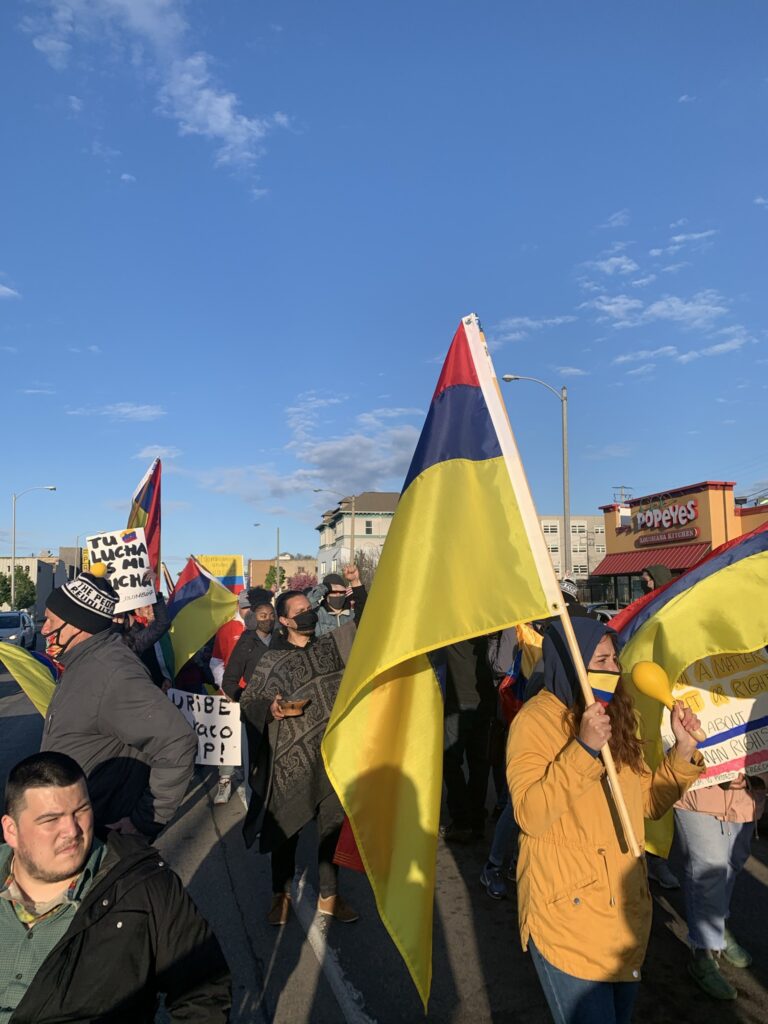 Representatives from grassroots organizations from all over Milwaukee are also at the event. Kleppe-Montenegro credits the success of the march to his comrades, Tommy Molina and Luscely Flores. He said the march was planned on short notice. He feels the community of the march reflects the solidarity of Milwaukee's immigrant communities. It's an international collection of organizations with like-minded goals – Red Condor Collective, The People's Revolution, Freedom Road Socialist Organization (FRSO), Milwaukee Alliance Against Racist and Political Repression (MAARPR), Our Wisconsin Revolution, and FTP Drumline. They are all aligned on the liberation from oppression of people of color in the United States. Most have a national presence, with chapters in Milwaukee started by people who felt the need to have support on a global scale. They all came together through word of mouth or event-sharing on social media.
The march goes through the main avenues and side streets of Milwaukee's South Side – down Mineral, turning on 11th and up to 16th and National, where it turns onto Cesar Chavez Drive. It's as if they are bringing the message of solidarity front and center, to those who couldn't attend or don't know what's happening. People wave to the marchers from their windows, holding phones up to record. Others honk their horns in solidarity.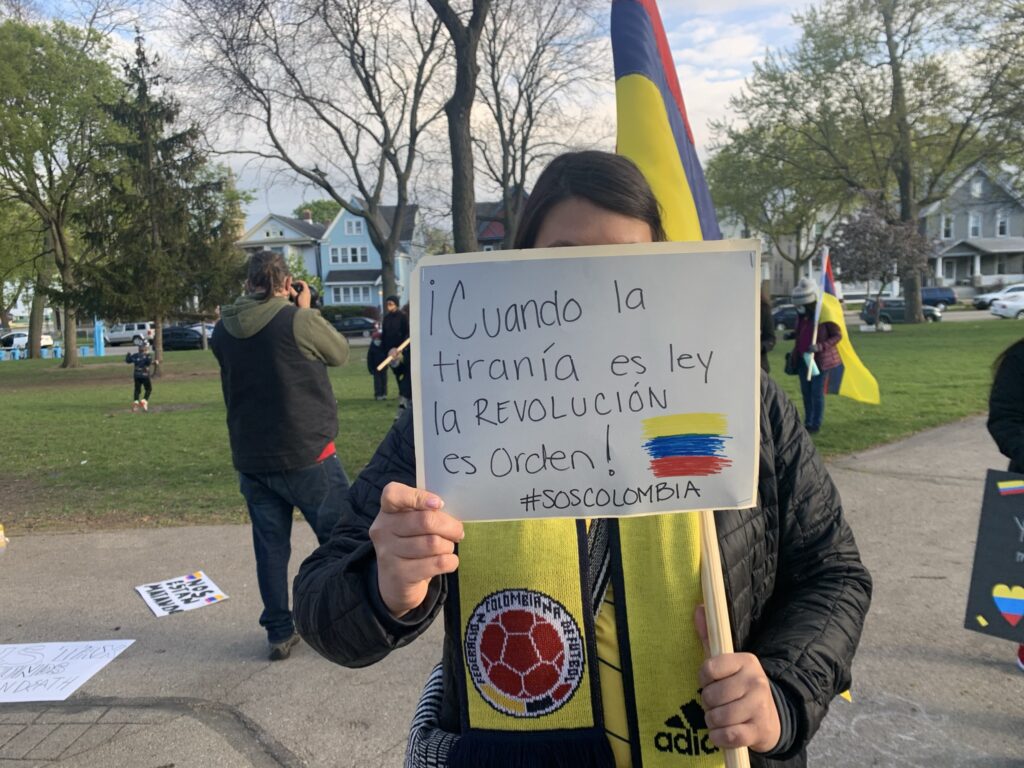 The route powers through streets lined with small businesses, duplexes on hills bordered by chain link fences, cream city brick churches, and basketball courts. The march feels unified. Everyone soldiers on in collective self respect. The night starts to become cold, but the people are undeterred.
"QUE VIVA LA GENTE DE COLOMBIA! QUE VIVAN LAS MADRES!" are chants that pierce the air, their message resounding true and bouncing off the siding and doors of the facades down Orchard Street.
Solidarity with Palestine is another important message with the march. The people of Palestine are enduring air strikes, displacement, and ethnic cleansing. It is something that has been happening around the world since the dawn of time, almost always to people of color.
"Palestine and Colombia share a common history with regards to living under US-backed fascist regimes. Some people even call Colombia 'the Israel of Latin America' because of its relationship with the US government," Kleppe-Montenegro says. He also called out Florida Senator Marco Rubio's attempted military invasions into Venezuela along the Colombian border. This is how Colombia is often used as a base to launch counter-revolutionary interventions across the continent, he says.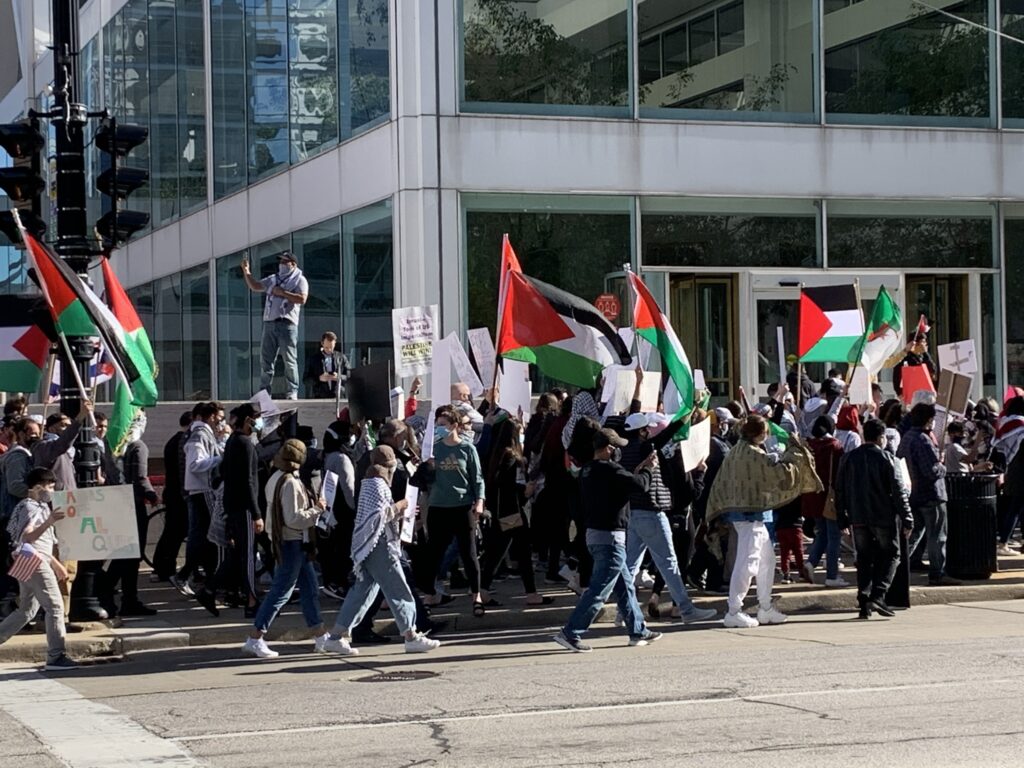 The struggles for Colombian equality and the Palestinian rights have converged in Milwaukee. They are bearing fruit and showing traction, voices piercing the thick summer air. The first march for Palestinian equality was held on Wisconsin Avenue, in front of the orange sunburst sculpture facing the lake. Milwaukee educator Zaynab Baalbaki grew up with both Middle Eastern and Mexican roots in the city. She believes in the importance of showing solidarity. She explains the patterns on the Shemagh (also called a keffiyeh and ghutrah) – a scarf-type wrap meant to provide protection from the sun, dust, and sand. Many feature a black or red checkered pattern stitched into the cotton cloth. It is believed that the checkered pattern is meant to represent ears of grain or fishing nets. I have one wrapped around a sign that says "Palestine Will Be Free".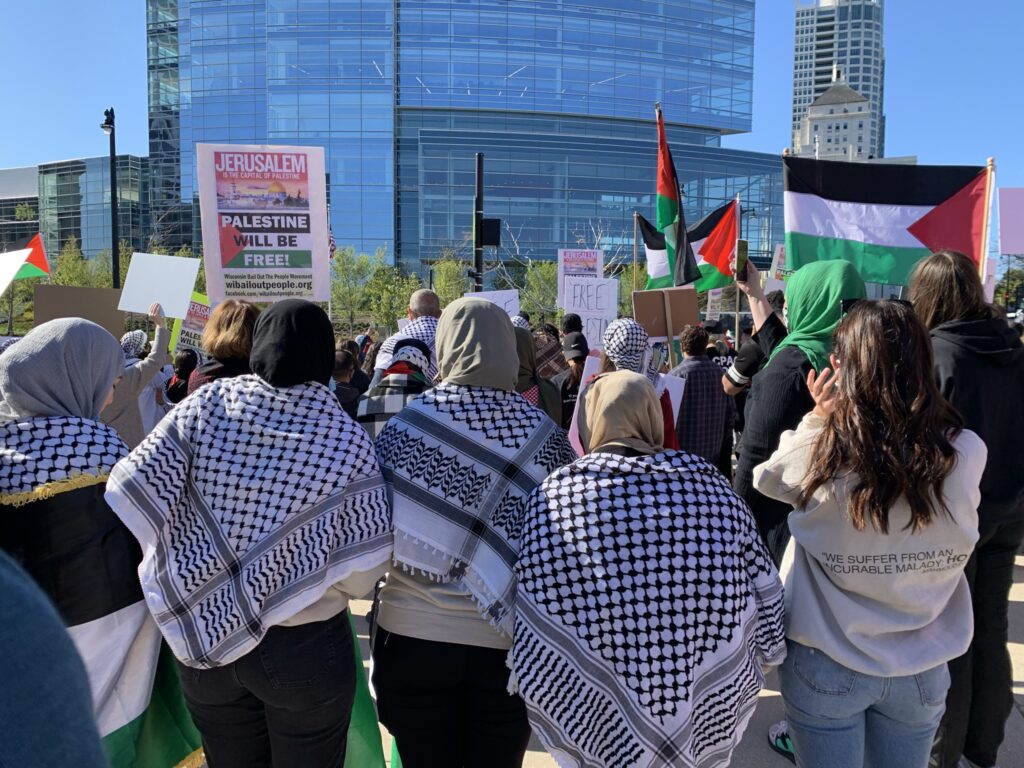 "It's important for people all around to show solidarity with Palestine because it's our collective struggle. It's the right thing to do. It reminds me of Freire (Brazilian educator, philosopher, and critical pedagogy advocate Paulo Freire) and him saying, "It's our humanistic task to liberate ourselves and oppressors."
"Solidarity with Palestine and the people of Palestine is one step closer to liberation. Rallies and protests are moments of love and solidarity. It's people coming together and being empathetic towards each other. It's the start of the peaceful and harmonious life that people talk about. When I'm at a rally or protest, I often think of who is yet to join the movement and how they can be activated and welcomed. I often think of the people from the past whose shoulders we are standing on. I also think of how the natural world is delighted that people are showing up because it means cleaner air, water and land too. Protests and rallies are a very humanistic experience that I hope all can participate in many times," she said.
The Middle Eastern community is small in Milwaukee, like the city itself. Many, like Milwaukee activist Honni Al-Juma, wear their flags and colors with pride. Al-Juma talks of his Kuwaiti heritage and solidarity with Palestine.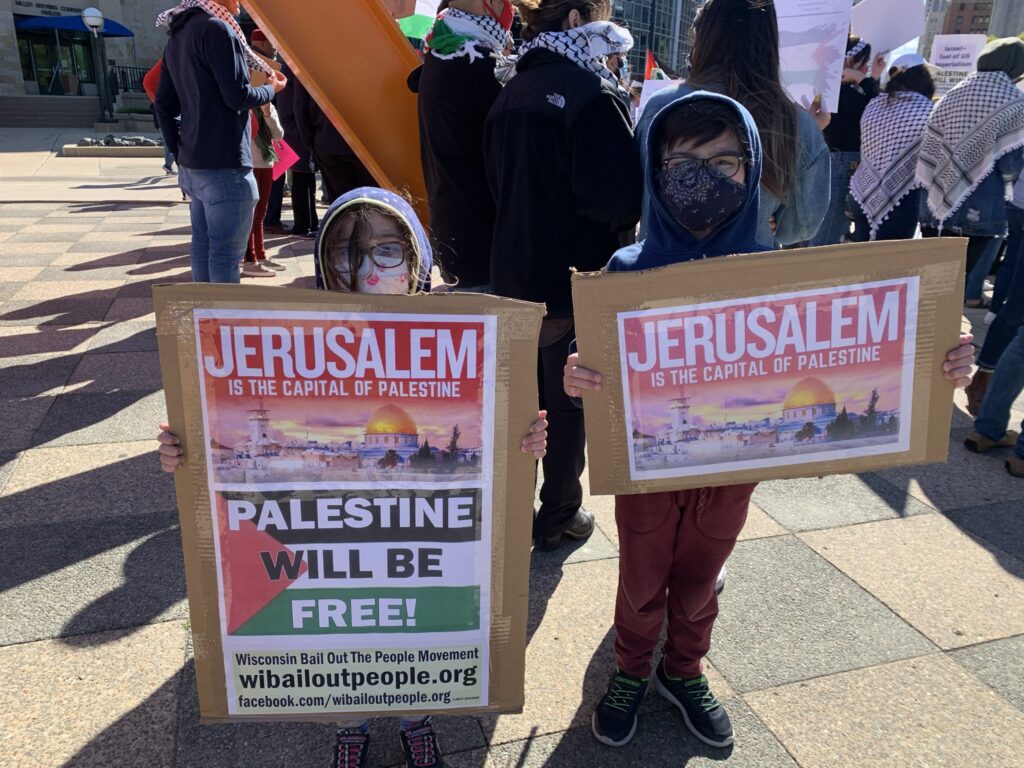 "It is important that different cities show solidarity with Palestine because ENOUGH IS ENOUGH. Palestinians were literally attacked at one of the holiest sites in Islam, during the final days of Ramadan (Islamic holy month). Our tax dollars are being used to fuel a war that's killing women and children. It's sick and this isn't new. It's been happening since the Arab-Israeli war of 1948. After that, Israel began expelling Palestinians and their state began to shrink. They now have one final stronghold, Sheikh Jarrah and even that is being taken from them. There are children expressing that they have no will to live anymore. They've lost parents and their city is one big pile of rubble. All they know is a life of fear and death and as the country that's helping fund it, we need to help stop it! My experience as someone who has been a part of rallies before was quite shocking. I've protested the Muslim ban, I've protested in support of Iranian Americans, I've marched for BLM, but never in a million years did I expect to be driving down Wisconsin Avenue to see hundreds of Palestinian flags," Al-Juma expressed passionately.
What links marches for Colombia and Palestine is the need, the pleas for justice for the people of these countries. The chapter in world history that is currently being written is one that will not be forgotten, one that will forever be etched into the consciousness of every person who is a proponent of human rights. Also for Freedom fighters, of which Milwaukee has no short supply.