Eau Claire, WI – Attending the 2021 "Pride in the Park" event in my hometown, I wondered if I was forgetting something. As in other times, I've felt that things are changing quickly in the culture of Northwest Wisconsin since leaving nine years ago and returning in 2020. This may be a common feeling for people who return to the cities in which they grew up, but I sense shifts in outspokenness and a surge in advocacy and political involvement.
The changes aren't all progressive. Eau Claire, a city of about 68,000, has gotten more expensive and not dramatically more racially diverse. But I was picking up on real changes. This June's Pride event drew the largest turnout of any local LGBTQ+ pride event in years.
Of course, with turnouts that high, not everyone who attends an event like Pride in the Park is a member of the LGBTQ+ community. They might simply see value in joining forces. One attendee who perfectly encapsulates this is David Carlson.
"We need the same things that the general population needs to succeed in life," he said.
According to 2019 demographic estimates, Carlson is one of less than 1,000 Black people living in Eau Claire, Wisconsin. He is also formerly incarcerated – he served several short stays in juvenile detention in his youth and then, separately, just under five years in prison as an adult.
He's now one of the area's most recognizable activists. Carlson was featured in regional media this summer and won an award for "bridging differences" in his community. He spent the last year as Northwest Wisconsin Regional Organizer for the ACLU's Smart Justice Campaign and recently co-founded C.C. We Adapt, a new peer mentorship and consulting agency to support youth recovering from trauma and placed in punitive systems.
Carlson's personal experience has led him to understand trauma and work to change his community's relationship with it. His efforts have connected him with many others in Northwest Wisconsin.
Celebratory events like Pride in the Park aren't the only spaces where people from various communities come together. From childhood onward, K-12 public schools are as much a home of community building as they are an early glimpse at discrimination. Carlson's newest venture with youth seeks to disrupt the school-to-prison pipeline – something he understands personally and which appears in LGBTQ+ spaces as well.
Another recognizable organizer from the area was not at the Pride in the Park event, though on paper he'd have been a likelier fit. Alex DeLakis grew up in Eau Claire, is white and is a member of the LGBTQ+ population. He graduated from the city's University of Wisconsin campus in 2017.
Like Carlson, DeLakis has found that his work leads him to public K-12 schools. Demanding welcoming and inclusive schools, they both said, is integral to progress for queer populations in Western Wisconsin and the Upper Midwest more generally. "I kind of see … policing that comes within K-12 schools," DeLakis said of his social work clients and LGBTQ+ peers. He now lives in Chicago.
As a social worker, he has worked in part with people living with HIV and AIDS, and other people with LGBTQ+ identities. He follows closely how queer identities are made to struggle: "The criminal justice system, the anti-violence movement, employment justice, housing justice — you know, those aren't things that seem very queer in nature, but essentially are very queer for how queer identities get marginalized," he said.
As a young adult and a student in the region, DeLakis sought to expand health equity for fellow LGBTQ+ people. He saw infrastructures of queer public health and community support in surrounding large cities like Minneapolis and Chicago and — reflecting on his own youth — thought his home city should build the same structures of support.
DeLakis threw himself into local activism through projects like the Safe Spaces Coalition, aiming to embed LGBTQ+ identity and empowerment into all facets of local life, from policy, healthcare, and education to casual social gatherings.
These are only two of the people whose advocacy shapes Western Wisconsin and the Upper Midwest. But my own experience of growing up in the area, leaving for eight years, and returning in my late 20s made me eager to reach out and connect with them (in person and via Zoom — the Midwest is a big place) and figure out where the region is now and where it can go.
It doesn't seem auspicious for intersectional community organizing. The Midwest is 75% white — by far the whitest region in the United States. Wisconsin alone is 81% white, and its third congressional district — Western Wisconsin — is 91% white. The Cook Partisan Voting Index considers it to have a slight Republican lean.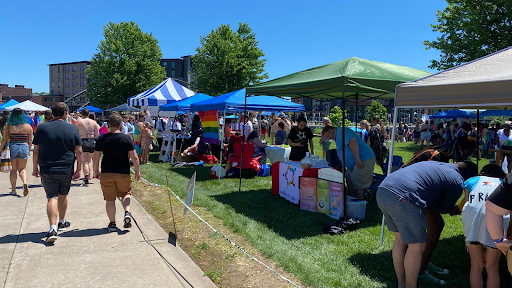 Still, last month's Pride in the Park in Eau Claire drew newsworthy turnout. The region hosted dozens of marches and protests for Black lives following George Floyd's death in 2020 and, to me, attitudes feel different than they did when I was growing up as an LGBTQ+ youth.
Formerly incarcerated people in the region, like Carlson, are more visible now in both media and on-the-ground reputation than they were a decade ago. And multiple leading groups' visibility is one of the key changes I can feel in Western Wisconsin and the Upper Midwest.
"Now that the public is beginning to see the real conditions of incarcerated people" through initiatives like his own, Carlson said, "the public begins to see that it is more likely than not the fault of the system and its actors that have created the conditions within prison and jail walls, and not the prisoners." Indeed, Carlson himself was recently recognized as a 2021 Uniting Bridges Diversity Award recipient.
"State sanctioned torture, pacification, and extortion is currently interwoven into the fabric of our society. We as justice-impacted people are survivors of this regretful legacy," he said. "We are also closest to the solutions."
Those solutions are familiar — almost simple. "Previously incarcerated individuals need housing, employment, education, therapy, treatment, and social support."
DeLakis points to visibility as well. He said that "for a lot of people that are white, cisgender, heterosexual in Western Wisconsin, they don't get a lot of exposure to queer people, unless it's through Hollywood, and then it becomes kind of like a, 'Okay, this is a Hollywood thing, like, okay, the gays live in New York or they live in San Francisco, they don't live here in Eau Claire.'
"But I really do believe culture does change when people who may not be exposed or understanding of the community continue to see a pop up on the local news. … When queer people have a presence within the community."
It's hard to say that tangible, policy-based change that can meaningfully stamp out incarceration and liberate queer people of all ages has come to Western Wisconsin. Carlson's and others' work would be unnecessary if it had. Still, culture is changing, and leaders from young, LGBTQ+, student, and formerly incarcerated populations would point out that it isn't just changing in major cities or on the coasts.
In isolated moments — a show of collective pride in LGBTQ+ populations, working with people who are both queer and people of color or stuck in punitive system, fighting police brutality and inhumane prisons — seemingly disparate populations, all historically excluded in the region, are finding themselves aligned in the region.
"We're never going to be able to silo LGBTQ issues and create queer liberation," DeLakis said. One marginalized Midwesterner's needs are bound to intersect with another's.
As Carlson put it, "Imagine if you had housing and education, but no income? Or income and education, but no housing? Or housing, income, and education, but no support?"
The region's shifting culture is compelling. The battle for liberation is uphill in relatively homogenous communities, and while leaders from formerly incarcerated and queer populations face decades of isolation and a pesky status quo, something intangible is changing.
Organizers are, as DeLakis said, "building collective power to achieve a specific goal."