Milwaukee, WI – The walls of the venue rumble, the bass causing vibrations that reverberate through the spine and move through the torso, causing the crowd to move and contort like the tide of an ocean, a true force of energy in the air. The air itself is thick with sweat and pheromones, the kind that are caused by "Perreo", which is what the Agua de Rosas collective seeks to create.
"Perreo essentially means to have sex through dancing," Julio Cordova tells me. Julio Cordova is one of the DJ's that created Agua de Rosas with Gabriela Riveros back in 2018. Perreo is an old word that has origins in the Caribbean. The word enjoyed a small burst of mainstream popularity with the song "Yo Perreo Sola", which was a hit on Bad Bunny's 2020 album, "Yo hago lo que me da la gana".
Reggaeton is a musical genre that exploded onto the popular scene back in 2004 with "Gasolina" by Daddy Yankee. Along with him, a pantheon rose, one made up of many other artists that played ramshackle dance halls and outdoor festivals / parties on la isla de encanta, Puerto Rico. Reggaeton has evolved past the simplicity of Daddy Yankee's sound, but Agua de Rosas is committed to showcasing the historical aspect of dance music on the island, uplifting the ones that haven't enjoyed the mainstream success that artists like J.Balvin and Bad Bunny have enjoyed. Reggaeton isn't the only genre whose story is told, however, as there are many that came from the germ of Jamaican dance hall sound.
Julio Cordova and Gabi Riveros are both graduates of the Milwaukee Institute of Art and Design, and met through mutual friends. Both had different trajectories in their respective art field, but found common ground through their shared love of music.
"I have always been interested in scenes and the way people react to music and how it becomes a lifestyle for them," Julio recalls. "It always seems to be rooted in art, and groups pop up where people feel comfortable and share the commonality of interests. It influences fashion choices and personal philosophies."
"A collective is an idea. It is a thought process that people identify with and push to express," Gabi says. Though Agua de Rosas has always been just the two of them, the duo recently added karennoid, a DJ based out of Chicago, where Julio also lives. karennoid shares the same love for music and music scenes as they do, creating events in both Milwaukee and Chicago. "This is the building of our crew. Sort of how Graffiti artists and break dancers had crews at the nexus of hip-hop. This is the forming of a simple and effective idea that seems to have gone away in recent years," they both tell me.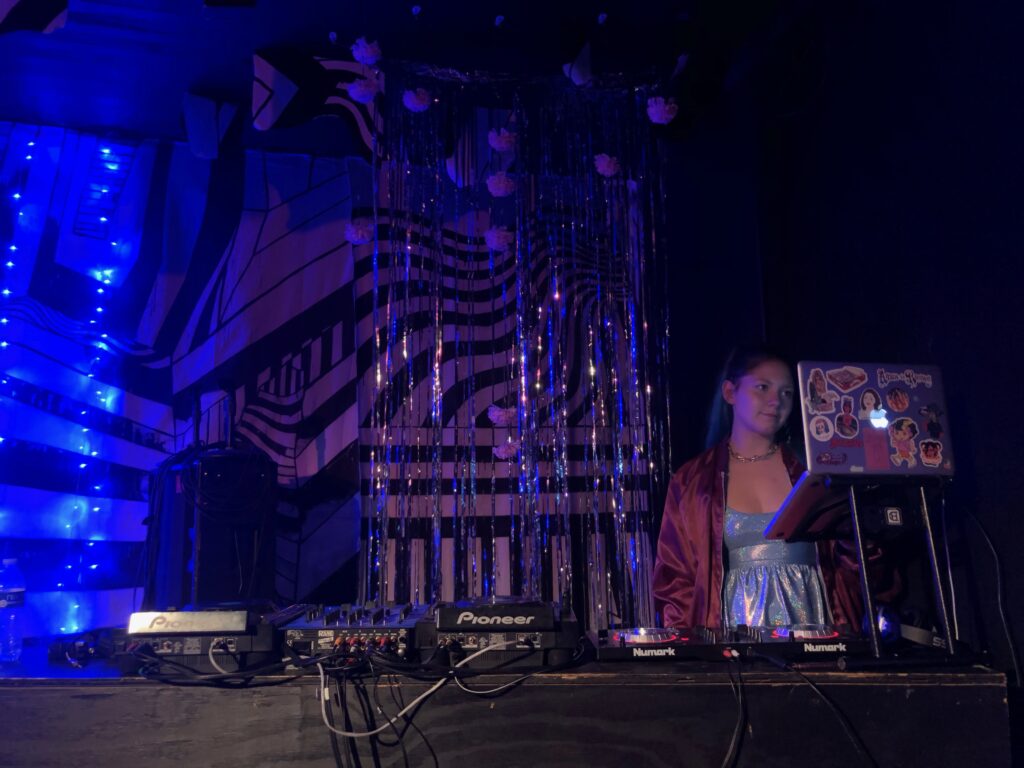 The Cactus Club in Milwaukee is their home base, and many folks have felt the rumbling grooves of an Agua de Rosas night, with people braving subzero temperatures to get in on the wild perreo. "The pandemic caused us to step back like all other DJ's and do live shows on Twitch. While that was fun, we really missed feeling the energy of the crowds and playing off that. Our current flyers and promoting include an element of being back so to speak, just because we are eager to get back to those venues we missed for so long," Julio says.
The group's aesthetic recalls many familiar images that have formed styles amongst kids on the south side of their town, where Latinx people thrived and made their own identity. Their mascot is a girl with large eyes. Eyes drawn like in an anime, one hidden behind a swath of black hair with hoop earrings and a single teardrop. She wears baggy pants over sneakers, and looks like something you could get out of a sticker machine in a Mexican grocery store in the 90's. "These images are always associated with the ethos that we wish to represent. Just kids who had access to DJ equipment and created something out of nothing. This is for all those basement and skip out parties we could never attend," Gabi says.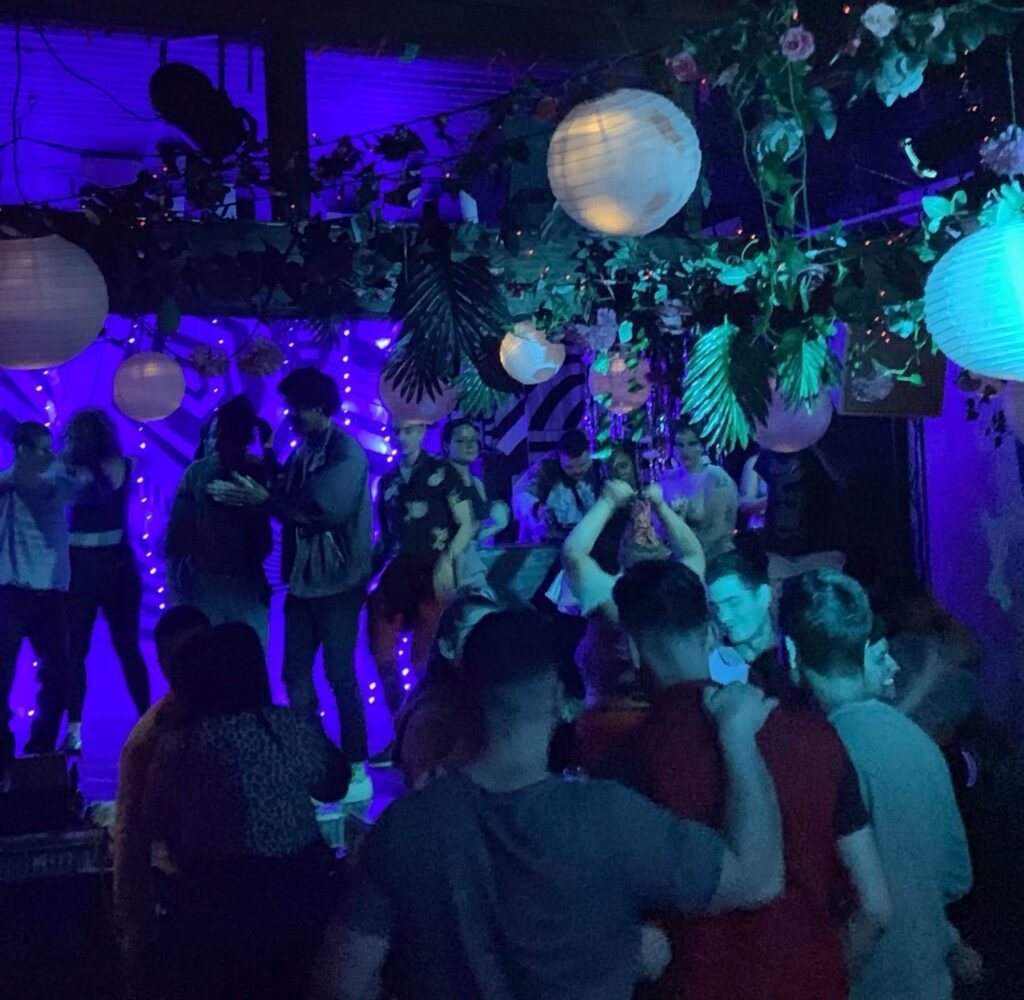 The group likes to highlight reggaeton talent in the city and want to continue doing that and also bring in bigger artists in the future. "It is really cool – since we have been promoting this next event a handful of younger artists are reaching out to us and making connections with us. We're excited to see what might come from these new friendships with young talent," Julio says. Their next event will be at Cactus Club in Milwaukee, on 07/17/21, featuring local reggaeton artist, Zonk Rolan.
DJ's do not only play music. They create moments. Those moments could mean anything for any person, and possibly mark a milestone for those in the mindset, creating a spiritual communion that can be the most powerful moment in a person's life. They generate shared moods, and the ones created by Agua de Rosas happen to be ones that infect the soul and make a person move, whether they feel like it or not.