Staten Island, NY – Since 2020, a Staten Island high school has given the opportunity for a six-year degree program to its students. Port Richmond High School's program gives students a chance to earn their high school diploma and an associate's degree. This is Staten Island's first "Grades 9-14 Pathways to Technology Early College High School". As of now, the program is specifically for students looking to study computer technology or liberal sciences, but that's not all.
Students in the program will now be able to gain real life opportunities through internships with industry partners. Port Richmond High School, the College of Staten Island, Staten Island University Hospital (SIUH), a member of Northwell Health, and Sun River Health, signed an agreement on November 9 to officially establish the pathways program.
"I knew this place was special when I came for graduation, from the students, to the faculty on stage, the joy, the pride, the excitement, the love. I knew that this was special, and it really is about the coming together of people to build a place for young people that really believes in them. This is a shining example of one of them," the school's Chancellor Meisha Porter said.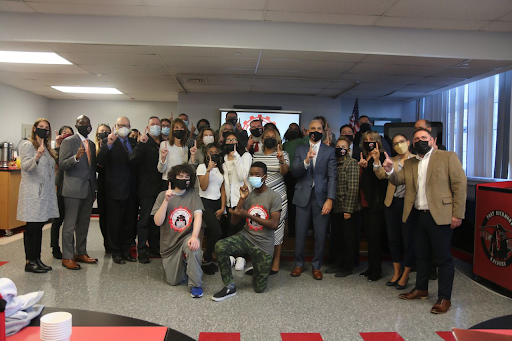 P-Tech students have the opportunity to earn a tuition-free education up to their associates degree as well as hands-on experience. While this was introduced a year ago, there was no opportunity to work with industry partners, which is much needed for today's job market. Industry partners SIUH and Sun River Health will "provide students with career-focused learning activities, including workplace visits, interview and resume workshops, mentoring and paid internships," according to SILive.com. The students will also have the opportunity to be first in line for interviews for long-term employment.
The partners are hoping to fill in-demand positions through the talent of these students. As of now, 78% of Port Richmond students are categorized as economically disadvantaged. This program was created to give them the experience and skills to work in the health care and technology industries.