Kenosha, WI – Monday, November 15th is when the jury was set to start deliberating the case of Kyle Rittenhouse, the man who killed two protestors and maimed another in Kenosha. The first count he faces is first degree reckless homicide and use of a dangerous weapon in connection with the shooting of Joseph Rosenbaum; he also faces first degree intentional homicide for the shooting of Anthony Huber and attempted first degree intentional homicide after having shot Gaige Grosskreutz. Grosskreutz survived, but left without the use of 90% of his right bicep.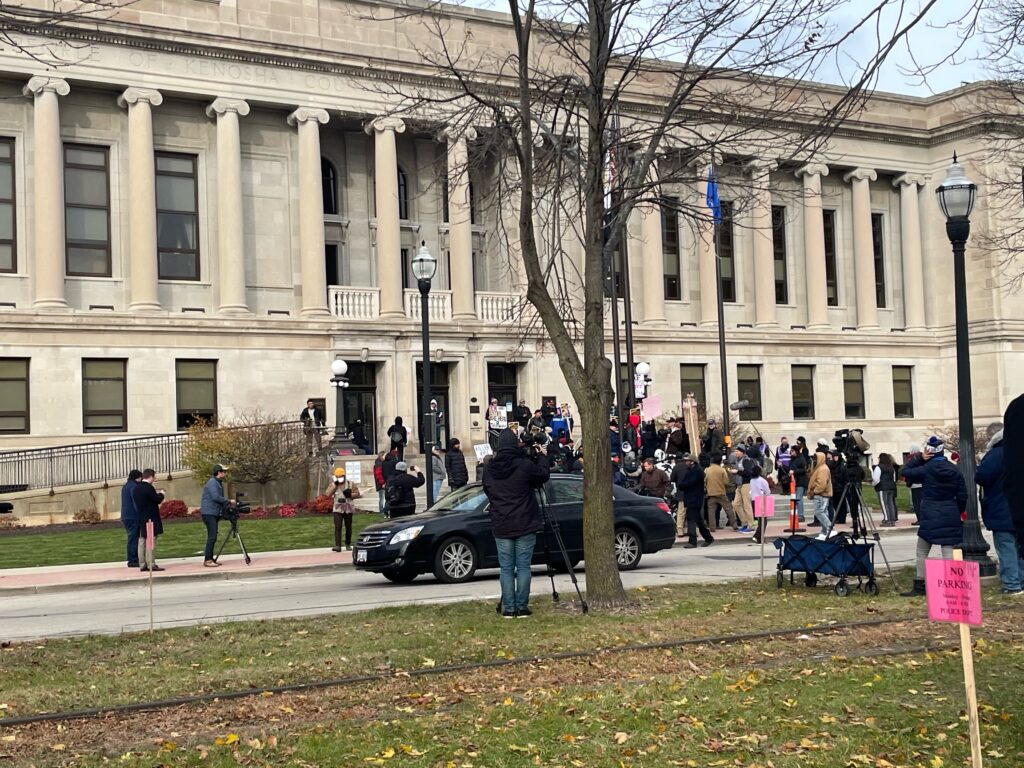 Apart from these charges, he was also facing a charge for possession of a dangerous weapon by a person under 18, a charge that was thrown out by Judge Bruce Schroeder, who is presiding over the Rittenhouse trial. When the trial began, Schroeder said calling the protestors "victims" was "too loaded" of a word, and they can be referred to as "Rioters, looters, or arsonists". In doing this, and many other bizarre and racist actions throughout the trial, the judge did what many felt was a message to the community that he had no intention of handing down a sentence to the murderer, but rather keep an oath for white supremacy. Rittenhouse is claiming self defense.
The trial lasted three weeks, and some very famous moments came of it, particularly one where Kyle seems to be crying in what is deemed as a ploy to gain sympathy from the nation, but many are not believing him. As many eyewitness videos show, he seemed jovial at the fact that he had crossed a state line from Illinois into Wisconsin, dropped off by his mother, Wendy Rittenhouse, on that fateful night on August 25th, 2020.
Kenosha was in the middle of civil unrest, after a Kenosha police officer shot James Blake, a Black man, during a 911 response call. Blake was left paralyzed after four of the seven shots fired hit him in the back. The National Guard was not called that night in late August 2020, but they were put on standby this week by Governor Tony Evers ahead of jury deliberations out of fear the trial might spark more unrest.
"I don't think anything is going to happen this time around," says Israel Webb, a protester at the Kenosha County courthouse. "Apart from the National Guard being on standby, there are a lot of cops just itching to strike," he adds. His gaze shifts toward the glass doors of the courthouse, behind which sheriffs stand with K-9 units on leashes. The scene at the Kenosha courthouse is an electric one. There are people with bullhorns blaring "Black Lives Matter is a terrorist organization," although there appears to be no members of the BLM movement present. The people who are here are those simply speaking out against the blatant disregard for human life that Kyle Rittenhouse shows and that Judge Bruce Schroeder and counter-protesters are enabling.
One of the activists that showed up is Vaun Mayes, an activist from Milwaukee, WI. "It is important that we confront white supremacy, and though the other side is saying it has nothing to do with that, it is most certainly that. Most of his [Rittenhouse's] support base are white supremacists. This trial has brought these people out," he says.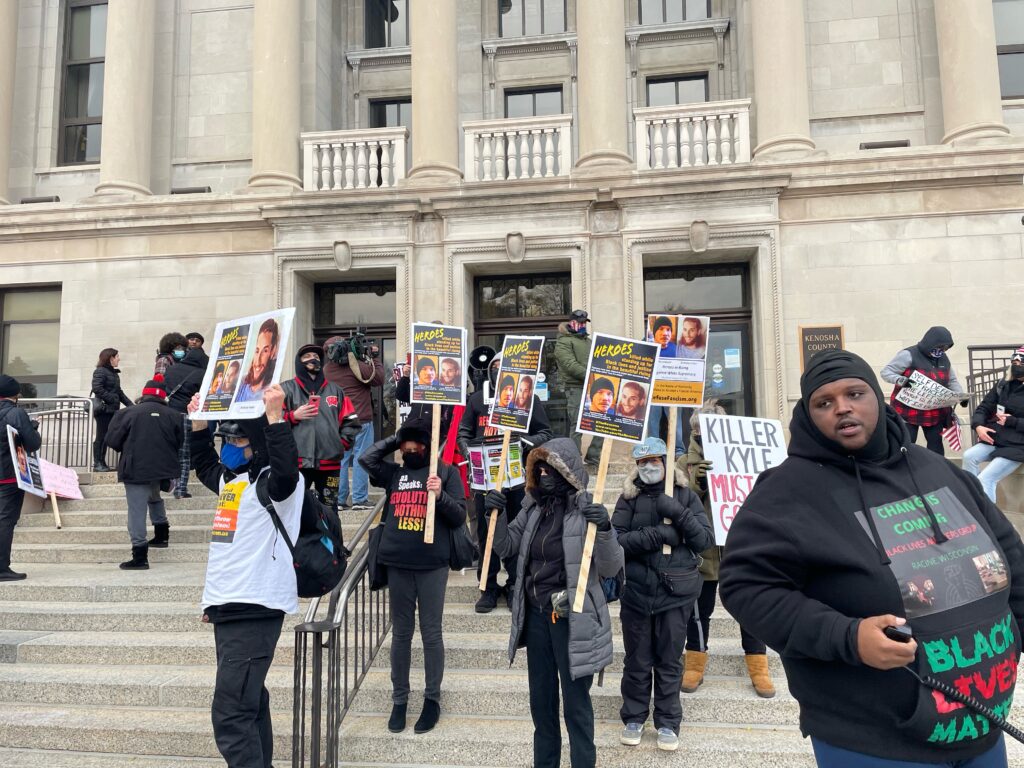 Although white supremacy is at the forefront of his support system, Vaun feels that there is something much simpler, something that should win a conviction. "If you make it ok for 17-year-olds to come to a space that is perceived as dangerous, shoot people and then claim self defense, well that's a very dangerous road to go down. That will have everyone claiming self defense after they have put themselves in a dangerous situation," he said.
"It is not even a question of Black or white at this point, it is a cut and dry case of homicide," one protester, who did not want to be identified, said.
There seems to be very little confidence that there is going to be a conviction for Rittenhouse. Many believe it will be a form of revenge for having landed a conviction for Derek Chauvin, the police officer who killed George Floyd. Right-wing protesters were present on the steps at the Kenosha courthouse, claiming "They had every right to be here, as much as these Antifa terrorists who are stoking hatred toward white people," as one anonymous person said. This person added, "There is not much difference between me and you," while having a heated argument with someone holding a "Convict Killer Kyle" sign. "The difference between us is humanity. I am not defending someone's actions, which you perceive as a right, to murder."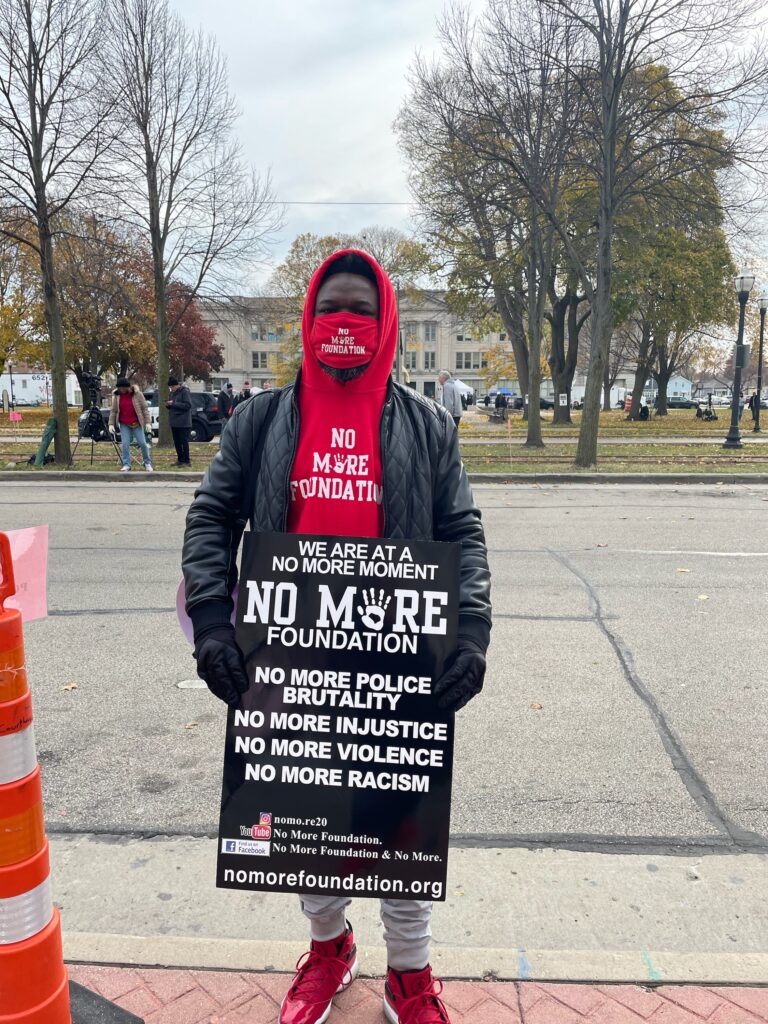 The night ended with all of the groups going home as deliberations are set to continue through Wednesday, possibly through the week. Organizers in Milwaukee are ready to attend in order to make their voices heard, and a strong police presence is standing by. Media from all over the Midwest is here enmasse, as it is a story that the entire country is watching.
"We just want to make sure it is known that murder is not acceptable, and protest is allowed, whether or not they like it," one protestor said.