New York, NY – The Tunnel to Towers Foundation hosts an annual walk in honor of late firefighter Stephen Siller, who risked his life on September 11, 2001. Started by his family, every year the 10.9 mile walk starts from the Holland Tunnel and ends at the World Trade Center in Manhattan. This year marked the 20th anniversary of 9//11 and a reported 40,000 people showed up to walk and run to raise money for the foundation.
According to the Tunnel to Towers Foundation site, "Stephen drove his truck to the entrance of the Brooklyn Battery Tunnel, but it had already been closed for security purposes. Determined to carry out his duty, he strapped 60 lbs. of gear to his back, and raced on foot through the tunnel to the Twin Towers, where he gave up his life while saving others." In honor of those who gave their lives that day and continue to, the foundation donates their proceeds to the nation's heroes and their families. 
For every dollar the foundation collects, 95 cents goes towards their programs which include mortgage-free homes for disabled veterans, current military members, and surviving military families. The foundation also pays off the mortgages of fallen police officers and firefighters. The foundation has raised over $250 million since it started in December 2001. The foundation is run by Stephen's wife Sarah Siller and his brother Frank Siller.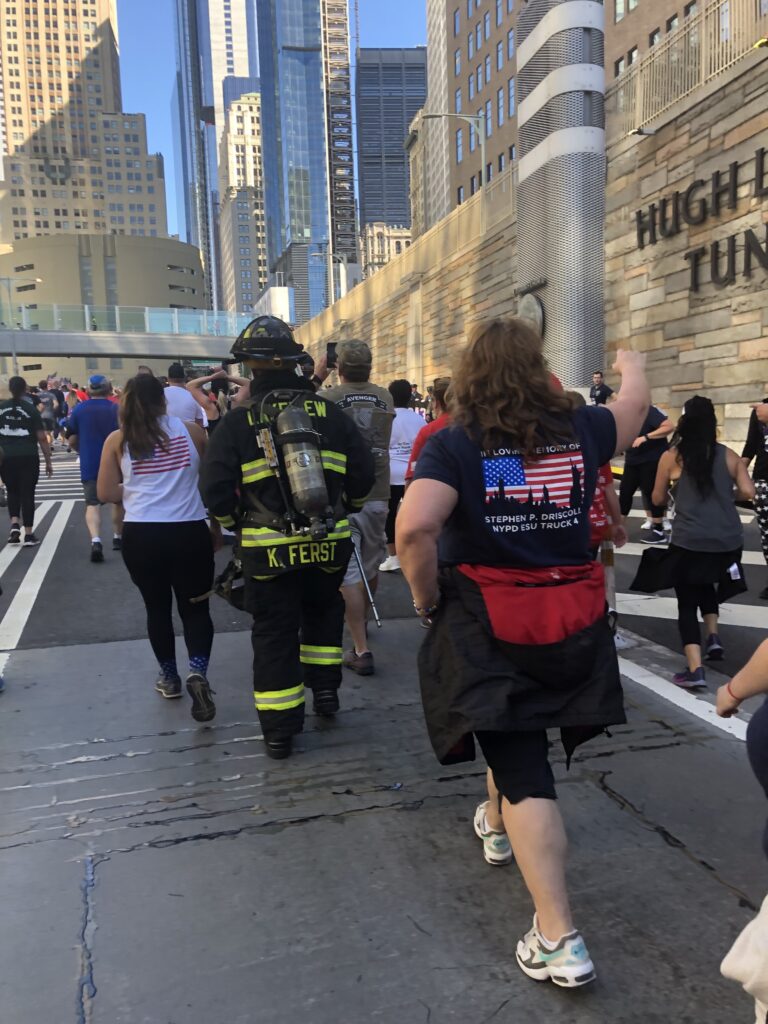 The walk is held each year on the last Sunday of September and has become one of the top 5ks to participate in America. "The event symbolizes Stephen Siller's final footsteps from the foot of the Battery Tunnel to the Twin Towers and pays homage to the 343 FDNY firefighters, 71 law enforcement officers, and thousands of civilians who lost their lives on September 11, 2001," according to the foundation's site.  
Current firemen showed up to the event this year in their gear to symbolize Stephens' final moments running to the towers. The walk/run takes about 3 and a half hours to complete and everyone is cheered on by service members and local New Yorkers.